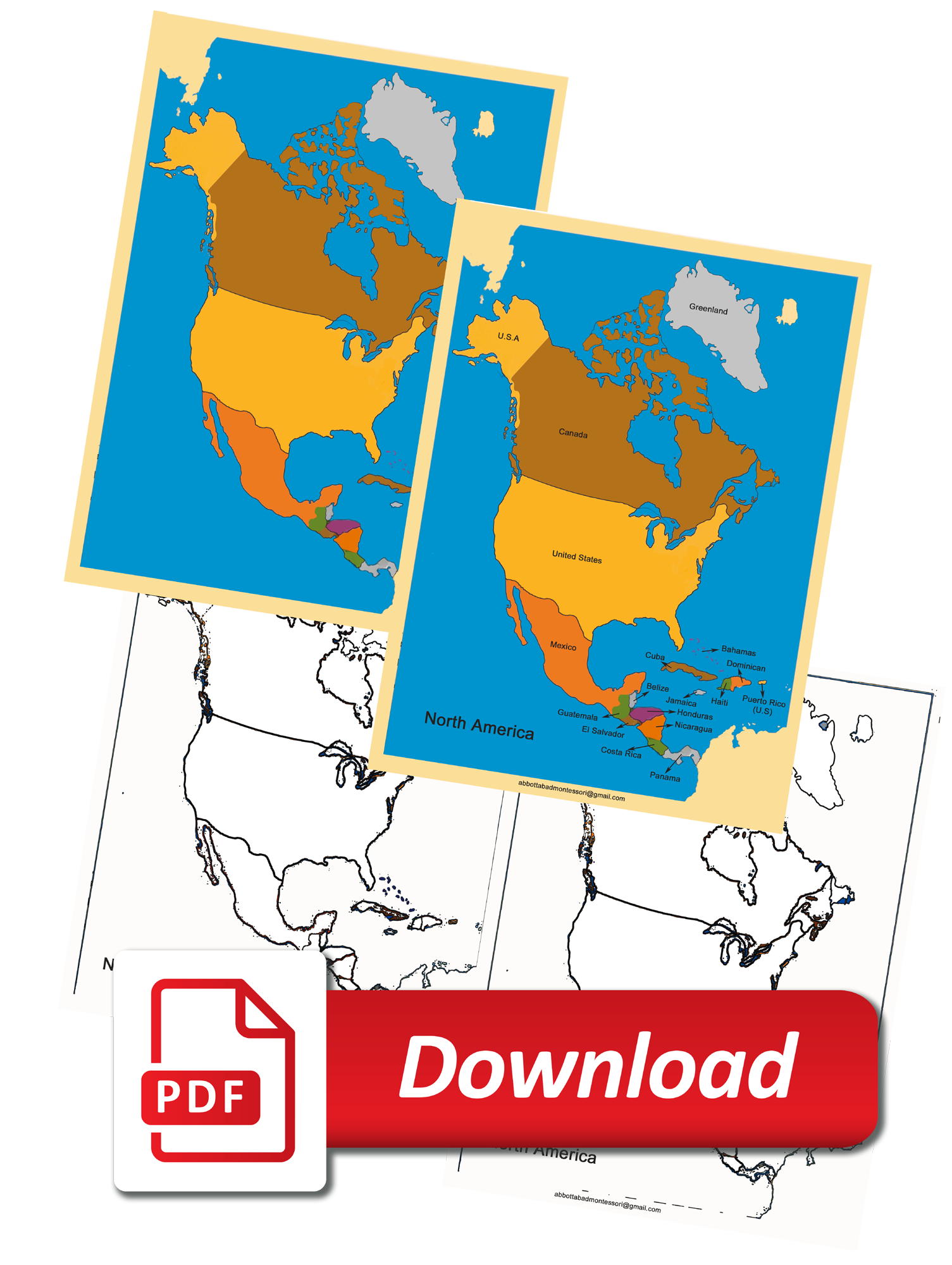 In This post you will find set of Montessori Four Map of North America which includes: one with country names, one with the country's capital, one with the country's flags, and one push pin. Included are stickers for the country's names, their capitals, and flags.
Montessori Four Map North America is a continent entirely within the Northern Hemisphere and almost all within the Western Hemisphere. It is bordered to the north by the Arctic Ocean, to the east by the Atlantic Ocean, to the southeast by South America and the Caribbean Sea, and to the west and south by the Pacific Ocean. Below you can download Montessori Four Map North America.
Montessori Four Map of North America printable PDF!
If you are a homeschooler or Montessori Teacher do not be afraid to personalize the materials for your family. Do not feel that you need to create classroom-ready materials. You just need to prepare materials that will add to your unique students learning experience.
List of North America in alphabetical order:
A                                                    B
Antigua and Barbuda                Bahamas                                                  Barbados Belize
C                                                    D
Canada                                          Dominica
Costa Rica                                    Dominican Republic 
Cuba
E                                                    G
El Salvador                                   Grenada                                                  Guatemala
H                                                    J
Haiti                                               Jamaica
Honduras
M                                                   N
Mexico                                          Nicaragua
P                                                  S
Panama                                        Saint Kitts and Nevis                              Saint Lucia Saint Vincent and the Grenadines
T                                                    U
Trinidad and Tobago                United States of America (USA)
Montessori Four Map of North America Download FREE :
PDF Files Size A3 (297 x 420 mm)/ 5 files
Each Map measures (400 x 560 mm)
Each Flags Measures (40 x 20 mm)
23 Flags includes.
Map with countries names
2. Map with countries capitals
3. map with countries flags
4. pin push map
>>>>>>you Can Download Here FREE set of maps Printable Files<<<<<<
if you have any Question regarding Print Dimensions you can Add Comment or Message me.