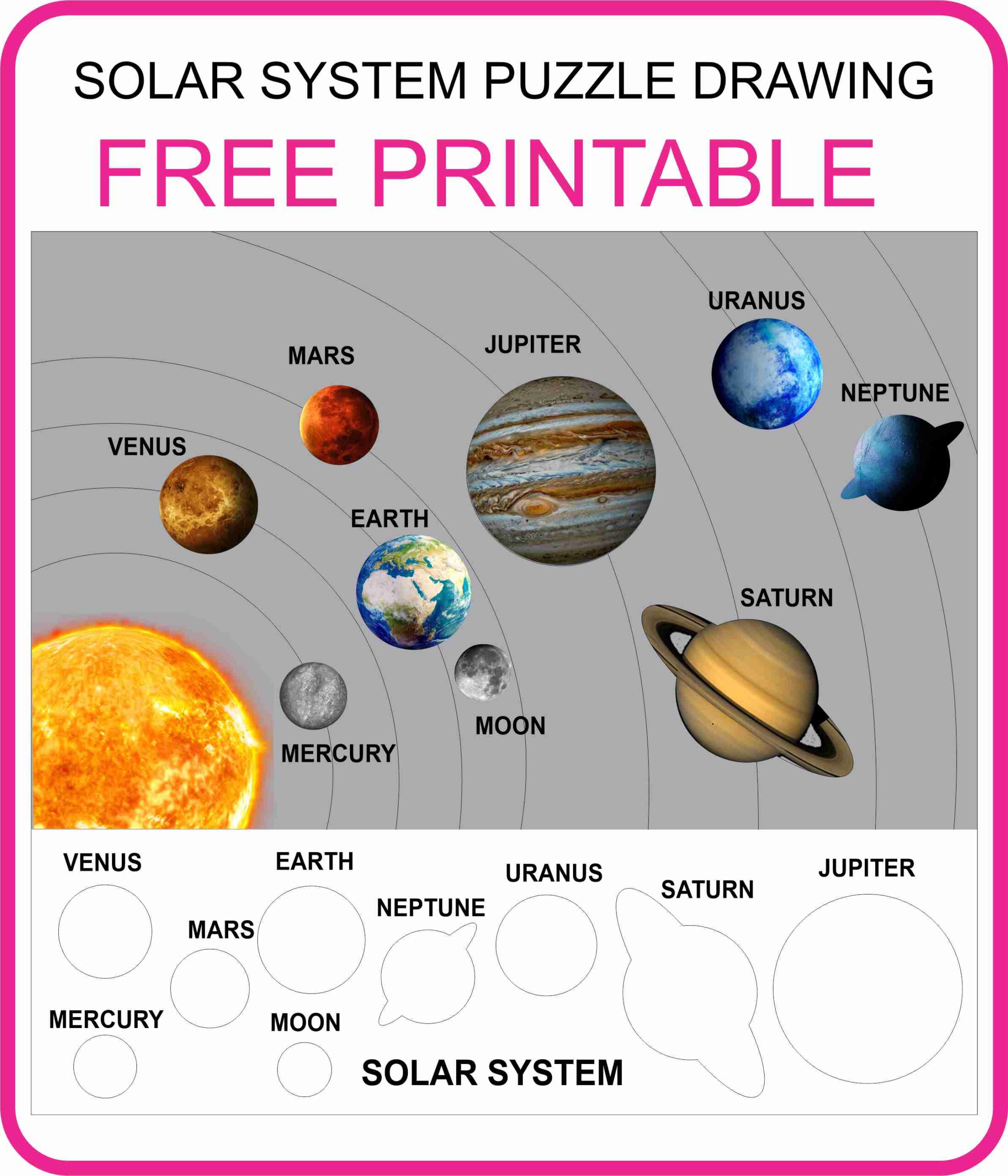 Children's will have fun learning about our solar system drawing puzzle and printable cards with these free printable Solar System for students. In this post You'll find solar system vocabulary, planets, sun, moon, and so much more! These free printable are great for Kindergarteners, grade 1, grade 2, grade 3, grade 4, grade 5, and grade 6 Children's.
Whether you are a teacher or homeschooler – these free printable are a great way to make learning fun. You will love that they are no prep! Use these with an astronomy or solar system unit with pre k, kindergarten, 1st grade to 6th grade students.
Below you can Preview and download these Solar system drawing puzzle and printable cards !
I created these solar system puzzle free as part of our unit. Studying the solar system is a lot of fun. Kids have a natural interest in the stars, sun, planets, and more and this science unit is a great way to draw on kids natural curiosity and interest for a teachable moment.
Below you can preview and download solar system drawing puzzle.
Solar-system-Drawing

Free Download Solar System Drawing Puzzle:
These free solar system printable are a great way to discover and learn to draw the planets of our solar system. Download and print these work sheets for hours of creative fun! Using printables is a simple way for students to learn about our solar system drawing puzzle. Add this moon, Earth, Mars, Mercury, Neptune, Saturn, Jupiter, Uranus and the Sun printable to your lesson plans!
Solar System Printable Cards :
Below you can download printable solar system cards.
I created this resource for your classroom. It consists of 8 flashcards with the Solar System planets. These cards contain beautiful pictures and the names of the planets. Apart from the eight planets of the Solar System, You'll find a free printable at the end of this post. I recommend you to laminate these so they can last longer. You can view or edit this file in ADOBE ACROBART
Solar-system-Drawing-Cards

The planets of the Solar System are divided into: inner system planets and outer system planets. The four smaller inner system planets are: Mercury, Venus, Earth and Mars. The four outer system planets are: Jupiter, Saturn, Uranus and Neptune.
If you are a teacher who loves to use high quality pictures with its pupils, you are in the perfect educational site, because all the pictures we use here are high definition ones.
Thank you for downloading these printables and visiting my website. If you have any qyestion feel free to CONTACT ME at abbottabadmontessori@gmail.com
Please subscribe for latest posts.