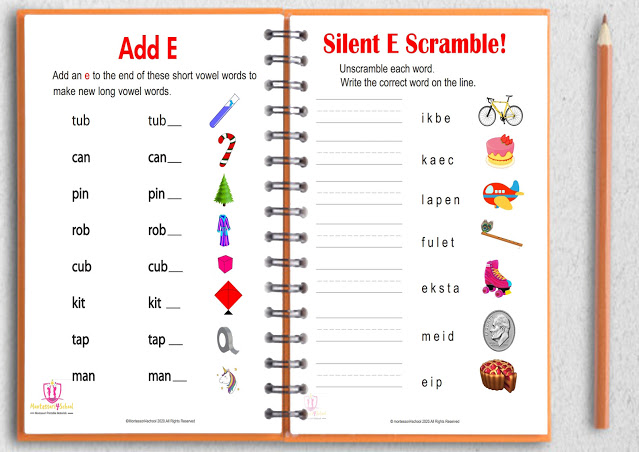 Download Free Silent e Worksheets Here !
I have made these Silent e worksheets as i always struggle to find ones that can be used as a teaching aide as well. about 60% of English words contain silent letters. So its important for our students to learn how to spot them. There are some important rules that will help explain which letters are silent, but as with all English rules there are always exception to the rule. The term silent e refers to the use of an unpronounced E after another letter at the end of word.
However, as we will see later, there are many exceptions to this rules, as well as a number of other technical functions that silent e can perform.
Silent e worksheets Has Many Jobs:
Job 1) Silent "e" makes the vowel sound before it long, as in plane and space.
Job 2) Silent "e" clarifies the meaning of the word, as in the word pairs by —bye and aw—awe.
Job 3) Silent "e" adds a vowel to syllables with the consonant+l+e syllable pattern, as in triple and bundle.
Job 4) Silent "e" keeps i, u, and v from being the letter in a word, as in pie, true, and give.
Job 5) Silent "e" makes TH say its second sound,/th/,as in teethe and bathe.
Job 6) Silent "e" can show that the word is not plural, eas in dense, teas and laps(which would otherwise look like dens, eteas, and laps)
Job 7) Silent "e" can make c and g soft, eas in dance and large.
List of Silent e worksheets in PDF format. You can download free!
Add e
Silent E Scramble
Sights words
Finish the Silent E
Reading silent E words
Presto, Change-o, Silent E
Silent E words
Sounding out Silent e
Spell out the Silent e
Worksheet 1 and 2
Worksheets 3 and 4
Worksheets 5 and 6
Worksheets 7 and 8
Worksheets 9 and 10
Worksheet 11