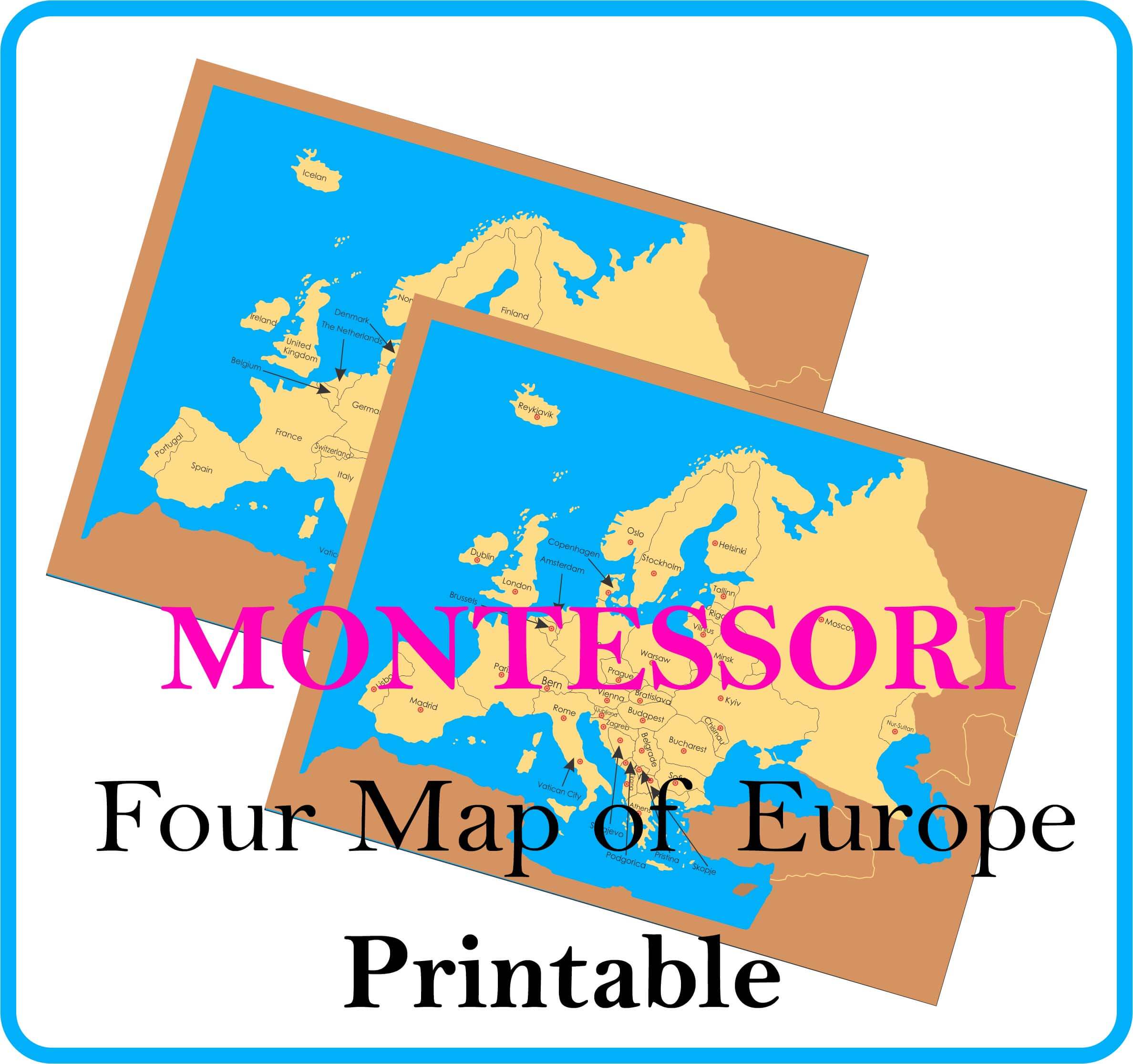 The Student explores country names, capital names and national flags with this set of 4 Map of Europe Countries with Capitals Flags. Map of Europe Countries Consists of 3 control maps and 1 working map-a control map for country names, a control map for capital names and a control map for national flags. The working map has holes for pin flags. Included are a set of green pin flags for the country names, a set of red pin flags for the capital names, and a set of national flag pins.
On this post you can Download free 4 Map of Europe Countries and Capitals Flags Printable PDF.
Introduction to Europe Countries:
Europe is the 6th largest continent in the world, comprising 4,000,000 sq. mi (10,360,000 sq. km) including adjacent islands (1992 est. pop. 512,000,000). It is actually a vast peninsula of the great Eurasian land mass. By convention, it is separated from Asia by the Urals and the Ural River in the east; by the Caspian Sea and the Caucasus in the southeast; and by the Black Sea, the Bosporus, the Sea of Marmara, and the Dardanelles in the south. The Mediterranean Sea and the Strait of Gibraltar separate it from Africa. Europe is washed in the north by the Arctic Ocean, and in the west by the Atlantic Ocean, with which the North Sea and the Baltic Sea are connected.
Click Below Links to DOWNLOAD FREE PRINTABLE 4 Map of Europe and Countries Capitals !
4 Map of Europe Countries Flags Printable PDF!
Below you will find a printable list of Europe countries Flags with country names. This free PDF may be useful for AP Europe History students, Social Studies students, and geography teachers. This PDF Printable file is free for personal and educational purposes. You may use it for preschool, homework assignments, study resources, and classroom projects.
Click Here to Download Europe Countries Flags with Names FREE PRINTABLE!
Europe Countries Capitals with Flags :
Below you can download Free Europe Countries and Capitals with names. Europe Countries Capitals is one of the static awareness topic in general awareness section usually asked in banking, SSC and other competitive exams. Below is the PDF Paintable files for Europe Countries Capitals. We request to all the site visitors to follow this order of countries so that it is easier to learn and revise. There are many countries in Europe that are extremely difficult for a little one to pronounce.  To help this process along, we have created syllable counting cards for each of the countries.  Not all are included in our activity, just the ones that prove to be most difficult to pronounce. However almost all countries are included in the printable.  Before the kiddos complete this activity on their own, we will review the names of each country several times.
Click Here to Download Europe Countries and Capitals with Flags !
Montessori Inspired Study of Europe Countries and Capitals with FREE PRINTABLES !
Thank you for visiting our site, if you have find any mistake on this post please feel free to contact us. Our Montessori materials for world continent studies usually include continent boxes and map puzzles.  Many students are given the experience of labeling each country within a continent with flags attached to toothpicks.
Click Here to Download Flags of Asia Countries with Names Free Printable
Click Here to Download Four Map of North America FREE Printable 
If you want to Buy Four Map of Europe Please Visit : https://montessori.edu.pk/