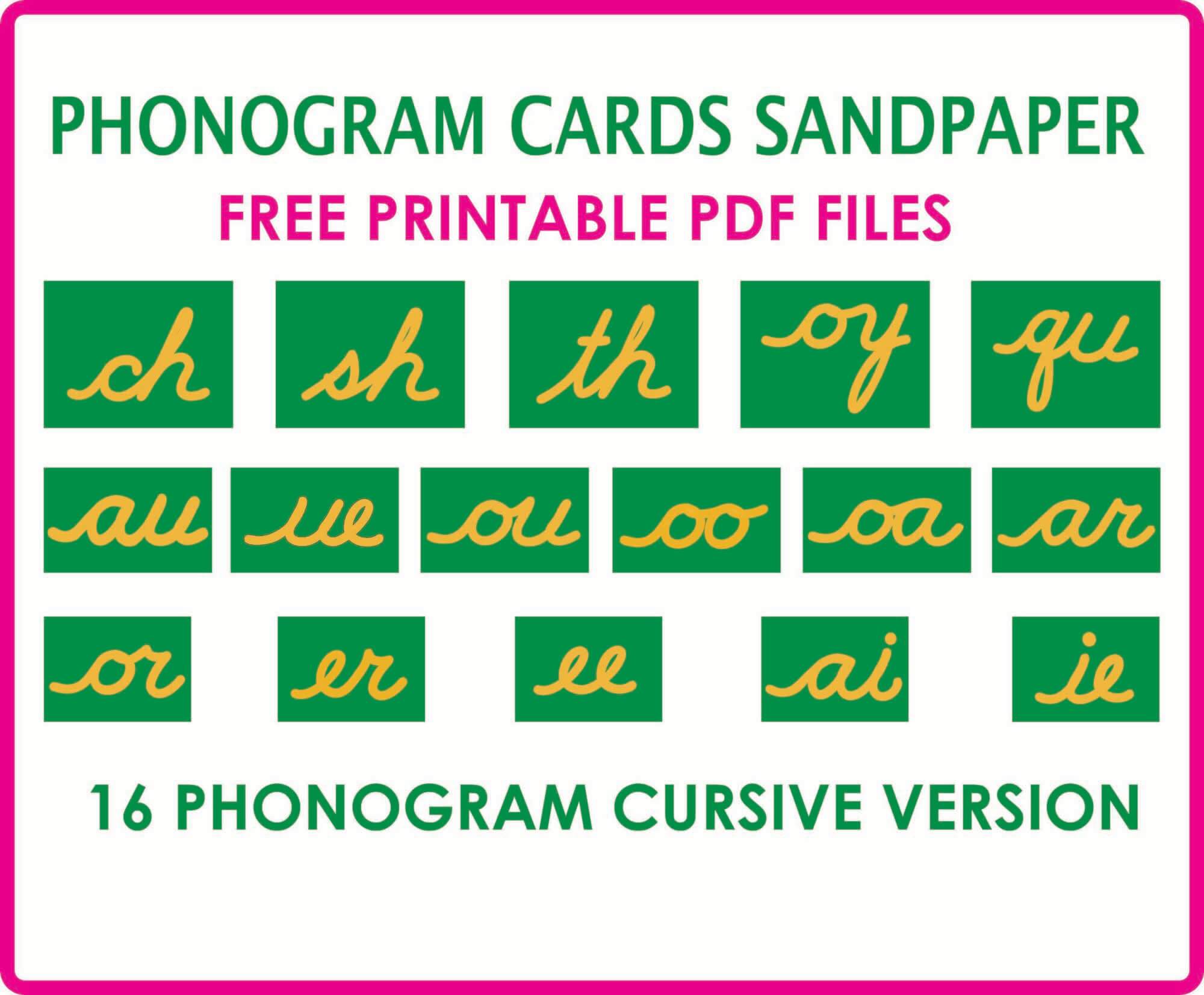 If you want to make your own 16 Phonogram Cards, this post is for you !. Below there are 2 pdf files . These PDFs let you printout, cut and laminate. You have to print these cards on heavy card stock paper. Phonograms are green to match the sandpaper letters. PPFs files includes 16 Phonogram cards : ch, sh, th, oy, qu, au, ue, ou, oo, oa, ar, or, er, ee, ai, ee. If you want to download these files please click on below images or you can view PDFs below:
How do you use 16 Phonogram Cards material:
The green Phonograms are similar to Montessori sandpaper letters, these are cursive version letters in sandpaper on green colored cards, each phonogram represent sound , and they are found in a box or sometimes displayed in wooden cabinet in Montessori classroom. With an important difference. While each sandpaper letter, the sandpaper Phonograms are 2 letters that come together to produce a unique sound- such as ee in cheek. These are necessary for English, since every letter does bot always make the same sound- and there are certain sounds which we typically represent with a 2 letters phonogram.
16 Phonograms Words Lists :
ch

chips

chess

chin

chicken

sh

shed

shell

ship shop

brush

th

thin

thick

cloth

moth

oy

boy

oyster

toy

royal

qu

queen

quick

quiz

quilt

au

audio

fault

audit

aunt

ue

value

glue

blue

true

ou

cloud

ground

proud

mouth

oo

spoon

boot

roof

moon

oa

road

toad

loaf

boat

ar

park

scarf

star

jar

or

fork

corn

tractor

sword

er

herb

boxer

river

letter

ee

feet

teeth

jeep

queen

ai

snail

chair

snail

afraid

ie

cried

spied

fried

pie
16 Phonogram Words
Download 16 Phonograms Cards Cursive Version:
Below you can view and download free 16 Phonogram Cards Printable:
Phonogram-Cards-Cursive-Sandpaper

phonogram-card-Cursive

Thank you so much for downloading this resource. if you have any question or feedback . I would love hear please comment below or email abbottabadmontessori@gmail.com