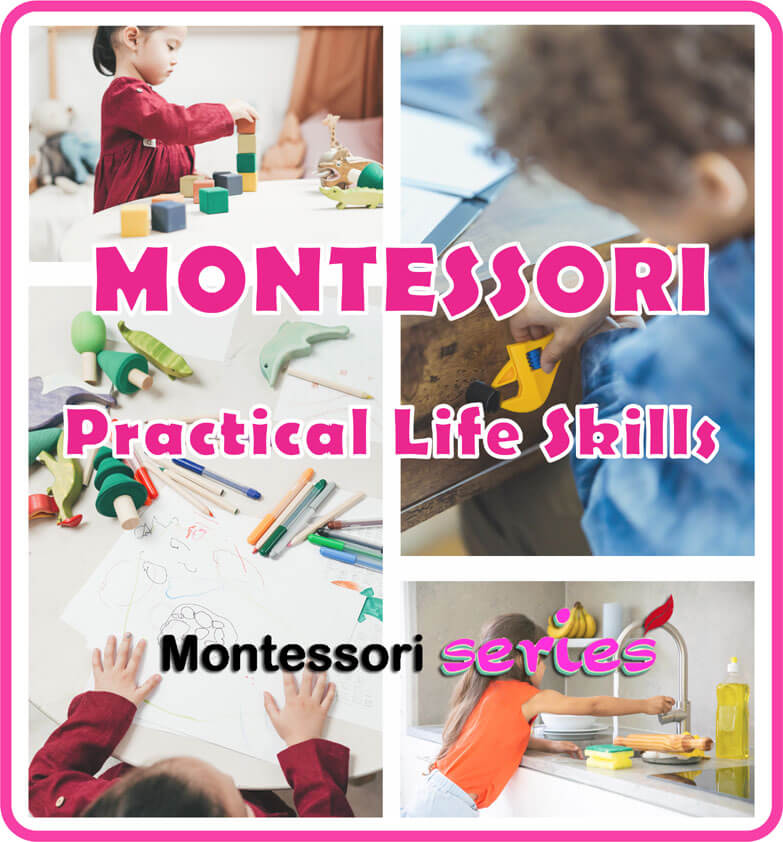 On this post below is the great list of Practical Life Skills. This list is a part of our home and  Montessori preschools curriculum for 2 to 5 years old. The activities in daily practical life cover 2 main areas of development. 1) care of environment 2) care of self. Montessori stated that at each plane of development there is a sensitive time for different skills and exercises. Practical life skills and exercises have a unique purpose which, when carried out properly, a very calming. Practical life exercises are the traditional works of the family and home.
Important Role of Practical life skills In Montessori Education:
Practical life skills play an very important role in Montessori Education. The overarching goal of Montessori Education is to prepare children's for success in life. One of the ways to prepare children's for success in life is to help them develop independence. Its very important that kid start learning practical life skills at a young age. In our classroom we help the student gain their skills.
Below is the list of a examples of how to invite your baby to continue these valuable Practical life skills at home !
| | |
| --- | --- |
| 1)Care of self  | Dressing Frames, Dressing Self, wash clothes, Clipping Nails, toileting, brushing teeth, bathing, dressing, combing hair, Hang Jacket on Low Hook, preparing food. |
| 2)Care of the environment | Polishing( wood, leather and metal), plant vegetables seeds, cleaning, dusting, sweeping, gardening, raking, clean window or mirror, flower arranging. |
| 3)Gross Motor | Walk around the mat, daily walks in garden, dance and sing, clap to music with your hands, walk on the line, carry liquids on a tray, outdoor play. |
| 4) Manners | Pick up trash and recycle, answer the phone, say (thank you- Excuse me), practice kindness, respect living things, table manners, blow the nose, gently care for animals. |
| 5) Kitchen Skills  | Pour water from a pitcher, pack a lunch or snack, squeeze orange juice, learn knife skills, cracks nuts, wash dishes, clean table, wash vegetables and fruits. |
| 6) Art and School Skills |  color mixing, cutting with scissors, modeling with clay, sharpen pencils, sponge painting, rubbings and stamping, tearing tissue paper. |
Some Practical life Skills ideas for at home, Early childhood.
Any of the above ideas from the classroom. Help with breakfast have a container with a scoop in it for them to serve their own cereal; add a small jug of milk on the breakfast table; setting the table. Getting dressed and undressed provide just as much help as necessary and provide clothing that is easy for the child to learn to master.
Help with lunch have a small amount of items where the child can serve themselves, for example, some slices of bread or rice crackers with various toppings or spread; the child may wish to help wash up. Helping with the laundry bringing things to the laundry basket, putting clothes in and out of the washing machine, adding soap, sorting washing. Getting ready for visitors making the beds, getting a towel, tidying away toys.
Basic Montessori Practical Life Activities also help special needs students and those who make it difficult to transition into the primary room. Here are some of the benefits associated with integrating Practical actions into the Montessori primary room. In the 4-7 Montessori classroom. Primary kids are also involved in these Practical experience activities as soon as possible, as they are anxious to enter and learn their newly developed skills .(Montessori teacher training)
Practical life actions are the integral part of any Montessori situation. The purpose of Practical Life is to help the person gain power in the regulation of his change, and encourage the person to gain independence and adjust to his society. It is so crucial to learn education, not correcting Montessori Education in order to allow the person to be a fully functionality part in his own world. Montessori Practical Life Activities also help the growth and improvement of the persons mind and increase and will in exchange also help the person develop an organized way of thinking.
We hope this inspires you to get your child involved in daily activities around the home. They don't need to sit in front of the television or play on the iPad while you do these jobs. Young kids love to be involved and gain so many skills at the same time.
Have yourselves a lovely week. Let those kids inspire you to become even more curious yourself!
If you have any questions please comment below or CONTACT US:
If you want to buy Montessori Materials Please Visit:https://montessori.edu.pk/